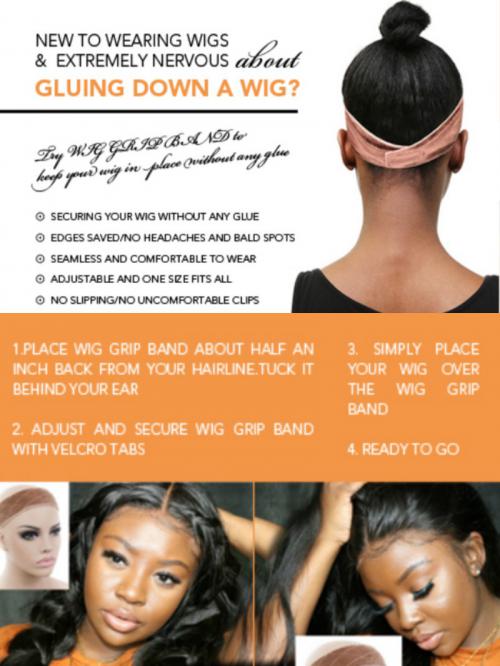 WIG GRIP TO KEEP YOUR WIG FROM SLIDING AND IN PLACE WITHOUT ANY GLUE - DW868
$15.99 $18.99
* Are you new to wearing wigs and wanted try some lace front wig styles to have your wig looking as 'natural' as possible (not like a Halloween costume) but you were extremely nervous about having to glue down a wig or anything like that ?
* Are you losing your edges from using adheasive , glue or gel to intall your wig ?
* Are you having a headace from traditional wig fasteners ?
If you are having all these issues and struggles ,then this wig grip is just for you.Wig Grip is an wig accessory to keep your wig from sliding and in place without any glue, gel or elastic band.
Length: 21.45" Width: 2.2" Weight:16g
* Simple and it works. Wig Grip secures your wig without any glue, gel or elastic band to keep the wig from sliding and in place.
* It helps to save your edges. Adjustable design eliminates irritation and headaches from traditional wig fasteners, prevents bald spots.
* Breathable material gives you a cool wear, avoid muggy.
* Bulk free, smooth design allows for a seamless, more comfortable to wear
* Adjustable and one size fits all.
Our stock standard wig is not precolored with 100% density.
If you are ordering a fuller density , please allow us some more days to crochet more hair onto the wig cap to make it as full as what you want.
It takes about 5 working days for 130% density , about 7 working days for 150% density and about 10 working days for 180% density.
If it is a colored wig , color processing time is extra 5 working days more.
Once your order is shipped out , you will receive an tracking notification via email . Shipping time is about 5-7 working days for U.S. and international orders.
We accept return or exchange of the product that is intact . With that being said , if you want to return or exchange a product, please do not cut the lace off or alter the product in anyway . Otherwise , the return or exchange request will not be authorized.
Please click here for more information
.